Shoppi Pay
This is where we put the commerce in social commerce. Payments can be made through our own ShoppiPay system with most of our participating merchants. We've built our entire system around the concept of easy, secure payment options for our members. We make it possible for you to enjoy social commerce, payments made quick and easy, and trusted feedback all on a single platform.
How it works on mobile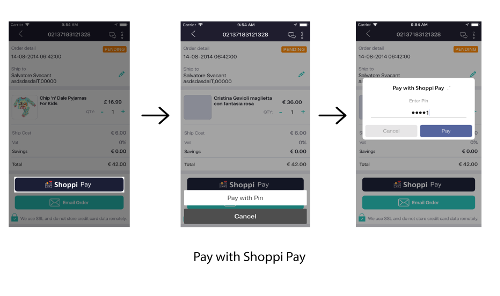 Click and pay at checkout
If the merchant accepts ShoppiPay for your item, you will see this icon:

.
Simply click on 'buy', and you can select ShoppiPay on the payment screen. Social commerce payments have never been easier …and as an added bonus, you now get money back on all participating purchases made with ShoppiPay!
ShoppiPay prepaid account
Running low? Just top up your account via all major credit cards or with one of the Shoppi Top-UP codes which come free with our monthly newsletter.
Account security – protecting your money and your data
Your protection is Shoppi's first priority. We have invested in the best online security available, and your account is further protected by our unique one-way system. Users can never be paid via ShoppiPay, so you never have to worry about being scammed. Payments can only be made to registered, fully vetted merchants